WHEN IS IT LEGAL TO CALL A TOW TRUCK?
Oftentimes an automobile gets towed because the inconvenience lies on the property owner, and not the driver. What will happen when you are about to leave for your job in the morning, and there is an automobile parallel parked in front of the driveway? Or as a hideous broken-down car has been parked in the front of your property for three days? Or as folks are parking in the lot of your business, taking up patron's spots, and going to view a film across the street?
Some folks will leave a note on a vehicle, letting the owner know that they will contact the police if it is not removed within 24 hours, or if the vehicle is seen unauthorized in that parking lot again. There are additional examples in which it is legal, necessary, and free to contact a towing company.
WHEN YOU SHOULD CONTACT THE TOWING COMPANY
The following include conditions when an automobile is going to be towed legally from the property without any charge from you:
PUBLIC PROPERTY
If a car constitutes a traffic hazard, like blocking an intersection or lane, or impeding traffic flow in any way, it immediately can be towed.
If a car is parked in a controlled parking or publicly owned facility, it may immediately be towed. This applies mainly to public facilities/parks, parking garages, as the motorist leaves the vehicle and goes some place other than where the parking lot is designated for. In this situation, only a public official or law enforcement official has the authority to order an impoundment.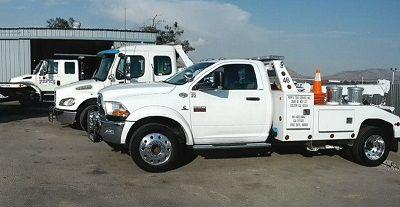 If a car is parked in a public right-of-way, an individual must contact the public official of the location in order to get it removed.
PRIVATE PROPERTY
On residential property, it immediately can be towed. A residential property can be defined as one that has "no more than four housing units upon the property". This means, if you're the one with the vehicle blocking the driveway, it's possible to contact an emergency towing company and immediately have it removed.
On a non-residential, private property, as signs are posted properly, it immediately can be towed. The signage has to meet multiple requirements, like being close to the entrance of the parking lot and being in a visible and clear space. In this situation, like someone utilizing your parking lot as a "drop-off space" for their vehicle, then you're legally permitted to have their vehicle impounded; but, you have to give a signed authorization to the truck operator.
On a non-residential, private property, without signage: it may be towed after 24 hours.
Some individuals who contact a towing company might feel guilty, as they know the trouble that it is causing the owner of the car. Just know, it is your right to contact a towing company. There isn't any need for the negligence of someone else to cause you business or wasted time.
If you have an automobile that has to go—and you know when it is that time—contact the towing company of https://pepestow.com/ today!