Commercial Tow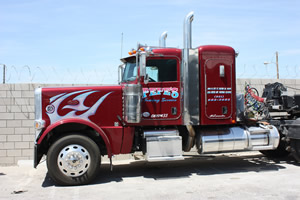 When they need a commercial tow, Ontario payloads are as diverse as the businesses paying to deliver them. Some companies need shipping containers, boats, and even mobile trailers delivered. These items have to arrive safely and on time and that's why they call on Pepe's Towing for professional towing services.
A Reputation For Commercial Towing
Our reputation precedes us, and that's how we know we're providing excellent services. Our commercial tow services have been providing local businesses with the means to move any load since 1978. We've grown because we've kept our standards high and expanded to fit local needs. That includes expanding our fleet to over 80 vehicles.
Your Commercial Tow Truck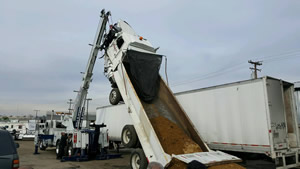 Not every truck can handle the heavy loads and dimensions of commercial products. That's why our fleet contains specialized vehicles for specific load types. Light and Medium Duty vehicles have 26,000 lbs + capacities and can manage your smaller heavy loads. These are great for vehicle and large item transportation.
Our Heavy and Super Duty trucks utilize lifters and cranes. Depending on the vehicle, lift capacity is as high as 60 tons. When you've got construction materials, buses, tractor-trailers, shipping containers, and other large items to move, we make it look easy. Operators are experts with our equipment and can perform recovery duties for commercial applications as well.
We tow items that include:
Towing and recovery of semi-trucks and trailers.
Towing and recovery of buses, RVs, and shuttles.
Towing and recovery of trucks, vans, and cars.
Transportation of containers, mobile homes, machinery.
Crane services, underwater, and off-road recovery.
Contact Us For A Commercial Tow In Ontario
When your business needs commercial towing, choose for safety, reliability, and equipment choice. Our customized tow trucks are specifically designed to handle the job, and our drivers know how to use them to their fullest abilities. Don't accept anything but the highest quality commercial tow Ontario has to offer. Call (909) 551-4233 or contact us today.
More Commercial Tow Service Locations:
Colton
Fontana
Moreno Valley