Towing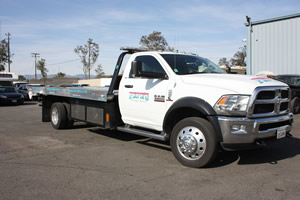 You never think you'll need towing services until you do. Component failure, accidents, and more can lead to a vehicle that isn't moving without assistance. When it comes to towing services, San Bernardino drivers want a tow truck company that will arrive on time, with the right vehicle. They want service from an operator that can safely handle their vehicle and uses mechanically sound methods. They want the professionals at Pepe's Towing.
Trustworthy towing begins with the truck.
Getting the right tow truck for the job is essential. Our dispatchers are qualified to assess your needs. This allows us to get a properly equipped truck from our fleet to you as fast as possible. Whether you need help with a tractor truck, sedan, heavy machinery, or something in-between we've got the skilled drivers and equipment to do the job. Our fleet includes versatile small vehicles like our winch-equipped FPS all the way up to a custom-built super heavy-duty truck with a 360° 60-ton capacity crane. Don't risk your vehicle with the wrong tow truck. Our San Bernardino towing professionals have you covered.
Safe Towing Practices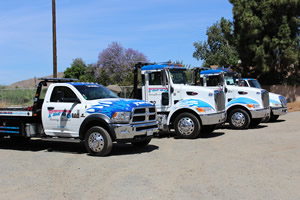 Tow trucks from different companies may have the same features, but safety standards are unique. Inexperienced drivers may not know how to correctly operate next to freeways or in high traffic areas. That's why when it comes to towing, the San Bernardino drivers we depend on are unified. Our safety standards are strict. Created by a 30 year veteran of the California Highway Patrol with 15 years as an Occupational Safety Officer, our safety officer understands how to protect you.
Drivers are trained to safely use their equipment, protect drivers, and recover vehicles in a variety of environments. Whether you need towing in inclement weather, during rush hour, or in an obstacle-laden area, our local tow truck drivers can handle it. We have procedures in place for every situation, making sure your vehicle and its passengers get safely loaded and ferried to your destination.
Expect more from your towing company.
Radio dispatchers are active 24 hours a day
San Bernardino is served by our fleet of over 80 tow trucks
Drivers are experienced and effectively trained
Businesses can save on transportation costs with our commercial accounts
Contact us for towing in San Bernardino now!
Choose the towing company that offers around-the-clock support, safety-trained drivers, and custom trucks to tackle anything. We're trusted by businesses, the Department of Transportation's Freeway Service Patrol, police agencies, and private vehicle owners for towing in San Bernardino every day. Get affordably priced, fast towing service at any time. Call (951) 396-3888 or contact us now.
More Towing Service Locations: